Anne Petronille Nypels Lab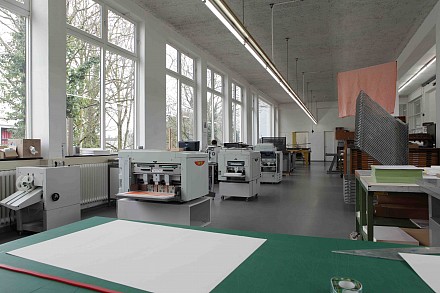 Printing & Publishing
The Anne Pétronille Nypels Lab links up with the great design tradition at the Margaret van Eyck Academie. The Lab welcomes artists, writers, designers, photographers, poets, scientists and essayists to develop and print their work here. Equipment for stencil printing (risography, screen print), relief printing (letterpress, wood and lino cuts, photopolymer) and for processing and finishing, enables them to experiment while creating their publications and print editions.
The Anne Pétronille Nypels Lab offers all expertise necessary for making publications. The lab's strength is the combination of techniques that can create something special and unique, such as combining silkscreen printing or risography with offset print work. To that end, the Anne Pétronille Nypels Lab is collaborating with printer Walters in Maastricht, handbook binder Geertsen in Nijmegen, the Frans Masereel Centrum in Kasterlee (BE), graphics studio Daglicht in Eindhoven and Museum De Historische Drukkerij in Maastricht. Thanks to its partnership with RISO Benelux, the Lab received the first RISO A2 Duplicator in the world (outside of Russia); organized the first RISO Expert Meeting in 2014 and the second edition from 20-25 November 2016. The 2018 edition took place from 16-18 November.
The Anne Pétronille Nypels Lab not only supports Van Eyck participants, also external artists, designers or (cultural) organizations make full use of its many facilities and tap into its extensive expertise.
The Anne Pétronille Nypels Lab is also on instagram: http://instagram.com/charlesnypelslab/
The Anne Pétronille Nypels Lab has been realised with support of the Charles Nypels Foundation.