Therese Cornips Lab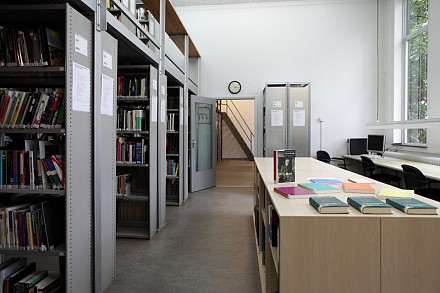 Library
The Thérèse (Marie Sophie) Cornips Lab is the lab for the mind; this is where making acquires its reflective meaning. This library houses an extensive collection of books, magazines, audiovisual material and multimedia and is the largest and best-stocked library in the field of art in the Euregion. The Lab gets its name from the Maastricht poet and fine artist Pierre Kemp (1886–1967). The collection comprises both its own books and donated collections, such as that of the Bonnefantenmuseum, the Dittrich collection and De Beyerd collection – totalling over 38,000 titles in the fields of art, art history, art theory, design and philosophy, including a large collection of exhibition catalogues. 
The collection profile is continually adjusted in consultation with participants and advisors. Books are, if possible, available in the original language in which they were published (Dutch, English, French and German), with Dutch and English as duplicate languages.  Apart from this, the Pierre Kemp Lab gathers and archives information on the Jan van Eyck Academie and the work done by participants at the Van Eyck institute. Information on activities that do not take place as part of the academy programme, yet are connected to the work of the Jan van Eyck or its participants, also find a place here. 
The Thérèse Cornips Lab is open to the public on working days. With its internationally renowned collection of special editions and artists' books, it is a favoured venue for browsing and discovery among participants and an increasing stream of visitors.
You can browse through the catalogue via this link