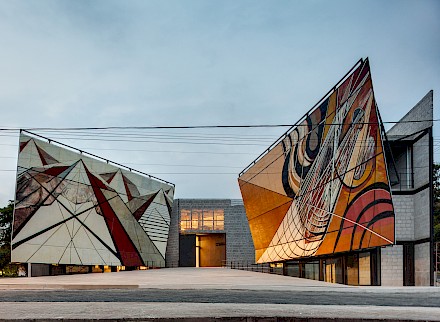 Harvard University Graduate School of Design
On Thursday, 19 September, the director of the Jan van Eyck Academie Hicham Khalidi will give a lecture at Harvard University Graduate School of Design (GSD). 
Location: GSD, Gund Hall Piper Auditorium 
As part of their autumn programme, the GSD has organized a series of conversations, conferences, symposia and more. Design voices have been invited to partake in the programme and share thought stimulating perspectives in relation to design, society and various political issues that surround their multifaceted, dynamic interrelationship. 
The Jan van Eyck Academie's director Hicham Khalidi has been invited to deliver a lecture as part of the programme. He will discuss art, design and the public domain in relation to biennales and triennales in Rotterdam (NL), Chandigarh (IN) and Marrakech (MAR). 
For more information about the programme, visit the GSD website.
Image: Rafael Gamo / Frida Escobedo, La Tallera in Cuernavaca, Mexico.