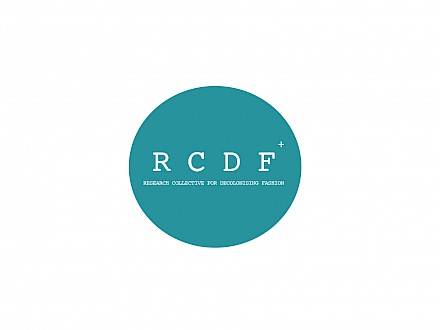 Research Collective for Decolonizing Fashion
From mid-August until mid-November members of the Research Collective for Decolonizing Fashion will be partaking in a short-term residency programme at Jan van Eyck Academie.
In their residencies, three members of the Research Collective for Decolonizing Fashion (RCDF)'s steering committee - Toby Slade, Sandra Niessen and Erica de Greef - will facilitate a range of innovative and cutting-edge conceptual and participatory engagements questioning the state of contemporary fashion, its decolonial potential, and new forms of fashioning at a time of climate urgency. They will also take part in Jan van Eyck Academie's Urgency Marathon in November (more details will be announced soon).
DR TOBY SLADE is a lecturer at Bunka Gakuen University in the Global Fashion Concentrate in Japan. His research focuses on Asian responses to modernity seen through art objects of the everyday-like fashion and popular culture. His 2009 book, Japanese Fashion: A Cultural History (Berg) was the first in English to cover the entire historical sweep of fashion in Japan, focusing particularly on Japanese modernity and clothing and the implications of that unique sartorial history for contemporary theories of fashion. His recent book Introducing Japanese Popular Culture (2018, Routledge) presents contributions from an international team of scholars.
During his residency (mid-August – mid-September 2019), Slade will explore the historical patterns of luxury consumption, especially in bubble- and post-bubble periods, and how brands, consumers, and fashion institutions created and adapted to these dynamics. Most importantly, slow-life movements such as these, seek to address contemporary issues of sustainability, environmental crises and production ethics, not via austerity or moralizing, but via finding new, slower pleasures in clothing. 
DR SANDRA NIESSEN earned her PhD cum laude at the State University of Leiden, in The Netherlands. She was Associate Professor in the Department of Human Ecology at the University of Alberta, Canada, until 2002, where she taught Material Culture, Cross-Cultural textiles, and the anthropology of fashion. In 2002, she became an independent scholar in The Netherlands working primarily on repatriation projects, writing, exhibitions and film projects. Her research has focused on the textiles and the textile revival of the Batak people of North Sumatra, Indonesia. 
During her residency (mid-September – mid-October 2019), Niessen will be exploring the ways in which indigenous fashion systems can enhance and disrupt the dominant western notions of sustainability in fashion. Sandra's explorations will include critical evaluations of initiatives in other professions, as well as in literature, across social media, through films and drawing on her own experience.
DR ERICA DE GREEF holds a PhD in African Studies from the University of Cape Town, in which she investigated the contemporary stasis and colonial traces in dress/fashion collections in South African Museums. Erica is an independent fashion curator, has lectured extensively in tertiary fashion education and contributed to the local fashion industry in many ways. She is founder of the African Fashion Research Institute [AFRI] and the Curator at Large in Fashion at Zeitz Museum of Contemporary Art (MOCAA) in Cape Town.
During her residency (mid-October – mid-November 2019), De Greef will expand on her curatorial and critical work on contemporary African fashion. She hopes to contribute towards developing a decolonial fashion discourse necessary to build new languages of fashion for more sustainable and inclusive futures. Projects that forefront African fashion practices, forgotten or disavowed histories, and alternate aesthetics expand the field of fashion knowledge on and from the African continent, but they could also contribute to new possibilities for fashion in an age of climate disaster.