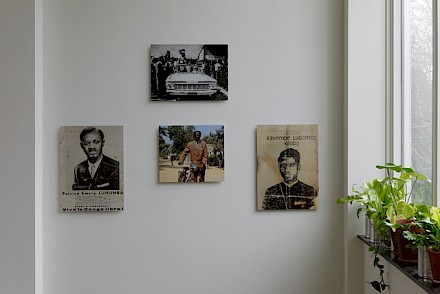 Thami Mnyele Foundation Award
The Jan van Eyck Academie's alumnus Georges Senga (b. 1983, DRC) has received the Thami Mnyele Foundation Award, to establish a project with Cargo in Context On-Trade-Off, Weight of Wonders from 2019/11/15 to 2019/12/21.
Other artists participating in the project are Sammy Baloji (DRC), Marjolijn Dijkman (NL), Maarten van den Eynde (BE), Jean Katambayi (DRC), Musasa (DRC), Daddy Tshikaya (DRC).
Georges Senga obtained a degree in language and business sciences at the University of Lubumbashi 2009. Already a year earlier, he began his work as a photographer. During the Biennial of Lubumbashi "Rencontres Picha", he took part in a workshop of the Brussels photographer Marie-Françoise Plissart. As a result of this experiment, Georges spent six months working on a project on Katanga's urban landscape entitled "My new ceilings".

In 2009, he won the special prize for the second edition of the Africa Photo Contest of Tarifa (Spain). That same year, he exhibited at the French Cultural Center of Lubumbashi. In 2010, he worked on a series around forms of what the photographer sees through abandoned objects. The curator Simon Djami for the Biennale of Lubumbashi selected this series entitled "mprints in 2010. The following year this series was presented in Lubumbashi, Tarifa, Nairobi and Bamako. From 2011 to 2013 Georges participated in a Master Class program organized by the Goethe Institute of Johannesburg in different cities of Africa (Bamako, Lagos and Lubumbashi). During this period of the new series A life after death and Kadogos were realized.