13.12.19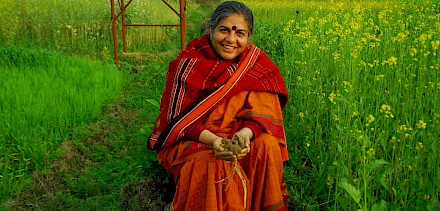 Vandana Shiva
On 13 December at 14:00, the prominent Indian scholar and ecofeminist Dr. Vandana Shiva (b. 1952) will deliver a lecture on food sovereignty and alter-globalization.
Location: Jan van Eyck Auditorium
Free entrance
If you wish to attend, please inform us at liva.nagle@janvaneyck.nl
!!! IMPORTANT !!!
Due to high interest in the lecture and limited space available in the auditorium, Dr Shiva's lecture will be live-streamed in different locations throughout the building – the meeting room and the basement. The seating arrangement is still organized by the first come, first served principle, but please note that for safety reasons and in order to avoid overcapacity, a limited amount of tickets will be given out at the entrance of the building from 12:00 – 14:00.  The colour of your ticket will indicate the location of your seat. The doors will close at 14:00. 
Dr. Vandana Shiva is a scientist, environmental warrior, activist and an author of more than 20 publications in which she challenges modern agricultural methods and sheds light on various manipulations imposed by governments. In her work, Dr. Shiva explains the methodologies of decentralization of food policy, from government to industry, and shows how large multinationals have disproportionately benefited from decentralization. To ensure food security, in 1991 Dr. Shiva founded a national movement Navdanya (meaning Nine Seeds or New Gift in Hindi) to protect the diversity and integrity of living matter, and founded a seed bank. By challenging the neoliberalization of (Indian) agriculture, Dr. Shiva has come into contact with some of the most powerful multinationals in the food industry, such as Monsanto and Cargill; and the lawsuit she filed against Monsanto has become legendary. 
Dr. Shiva, the daughter of a forestry official and a farmer, grew up in Dehra Dun, near the foothills of the Himalayas. She received a master's degree in the philosophy of science from the University of Guelph, Ontario (Canada), in 1976. Shiva is also trained as a physicist. In 1982 she founded the Research Foundation for Science, Technology and Ecology - an independent institute in Dehra Dun which is dedicated to high quality and independent research to address the most significant ecological and social issues of our times. In 2001 she opened Bija Vidyapeeth - a school and an organic farm offering month-long courses in sustainable living and agriculture.

As an activist, she has contributed in fundamental ways to changing the practice and paradigms of agriculture and food. Her books, The Violence of Green Revolution and Monocultures of the Mind, have become basic challenges to the dominant paradigm of non-sustainable, reductionist agricultural practices. Dr. Shiva is a Founding Board Member of many important organizations such as the International Forum on Globalisation and Diverse Women for Diversity. Time Magazine identified her as an environmental hero in 2003. She has also received the Right Livelihood Award in 1993 and the 2010 Sydney Peace Prize.
This event is part of a tour; Dr. Shiva is also delivering a lecture on 12 December at KASK, Gent (BE), and on 14 December at KVS, Brussels (BE), where Marente van der Valk - the Jan van Eyck alumna and the coordinator of the Food Lab - will act as a moderator. 
Image:  Eco Trust