Mirror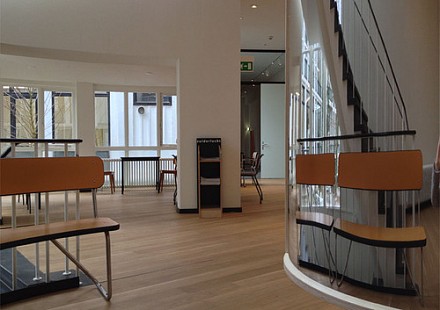 Project Agency
Mirror is the Van Eyck's project agency. It concretizes the international ambitions of the participating artists, and exploits the creative potential of the academy in undertaking external commissions. 
Mirror is a pioneer in the targeted deployment of artistic processes in the societal sphere. It stimulates social innovation by setting up the research, development and design of cultural projects and concepts, on commission of or in collaboration with industry, government or knowledge institutes. The pension/insurance fund APG, the Province of Limburg, Stichting Doen and the Municipality of Maastricht have been among those commissioning projects of highly diversified content. 
Since the start of the project agency in March 2013,  Mirror has initiated several programmes and projects: information on the (ongoing) programme The (In)Comprehensible Government, Living Like an Artist can be found in the menu on the left.  
Other projects include:

RESEARCH SOCIAL DESIGN - STICHTING DOEN
Van Eyck Mirror and the Hubert van Eyck Academie research Social Design and the projects on Social Design initiated and/or funded by Stichting DOEN.
Partners: Faculty of Art and Culture, Maastricht University, Lectoraat Autonomie en Openbaarheid in de Kunsten, Maastricht Academy of Fine Arts and Design, Zuyd Hogeschool
Funded by: Stichting DOEN
In collaboration with 10 Van Eyck participants
 
CULTUURVERKENNING MAASTRICHT /STADSGESPREKKEN
On 24 June - 8 July 2015, 2015  talks with residents of the city of Maastricht were held about their stance on and expectations of creativity in their immediate environment. The results will be incorporated in the future cultural policy of Maastricht. Van Eyck Mirror is responsible for the artistic input, the research, the final report and the artistic presentation of the results.
Partners Tout Maastricht
Funded by: City of Maastricht
PERFORMING SPACE
Performing Space 'programmes' the public space. Through visual arts, theater and architecture it aims to provide new perspectives on the urban context. The makers get the chance to experiment and reflect publicly on public space.
Partners: Academy of Architecture, SoAP, Maastricht University
Funded by: City of Maastricht
 
ONDERGRONDS MAASTRICHT  2015-2016
This project explores the underground infrastructure of Maastricht and its importance for the liveability of the city of Maastricht.
Partner: University of Maastricht
 
SCHANS VAN NAVAGNE 2016
Artistic intervention around the Schans van Navagne. The remains of this fortress, build by the Spaniards in the seventeenth century, lie underground in Dutch-Belgian border area. The interplay between artistic research and a performative approach makes history tangible for the visitor.
Partner: Maastricht Academy of Performing Arts
Funded by: Eijsden-Margraten
 
OVER-WEIGHTED 2016 - 2017
The project Over-Weighted started in 2016 on the initiative of Van Eyck Mirror and the Hubert Van Eyck Academie. Taking a study by the University of Maastricht about discrimination against people with morbid obesity as a starting point, Mirror and Hubert van Eyck Academie researched - in collaboration with young designers - if discrimination and stigmatization of obese adults in fact takes place and what the impact is on their welfare.